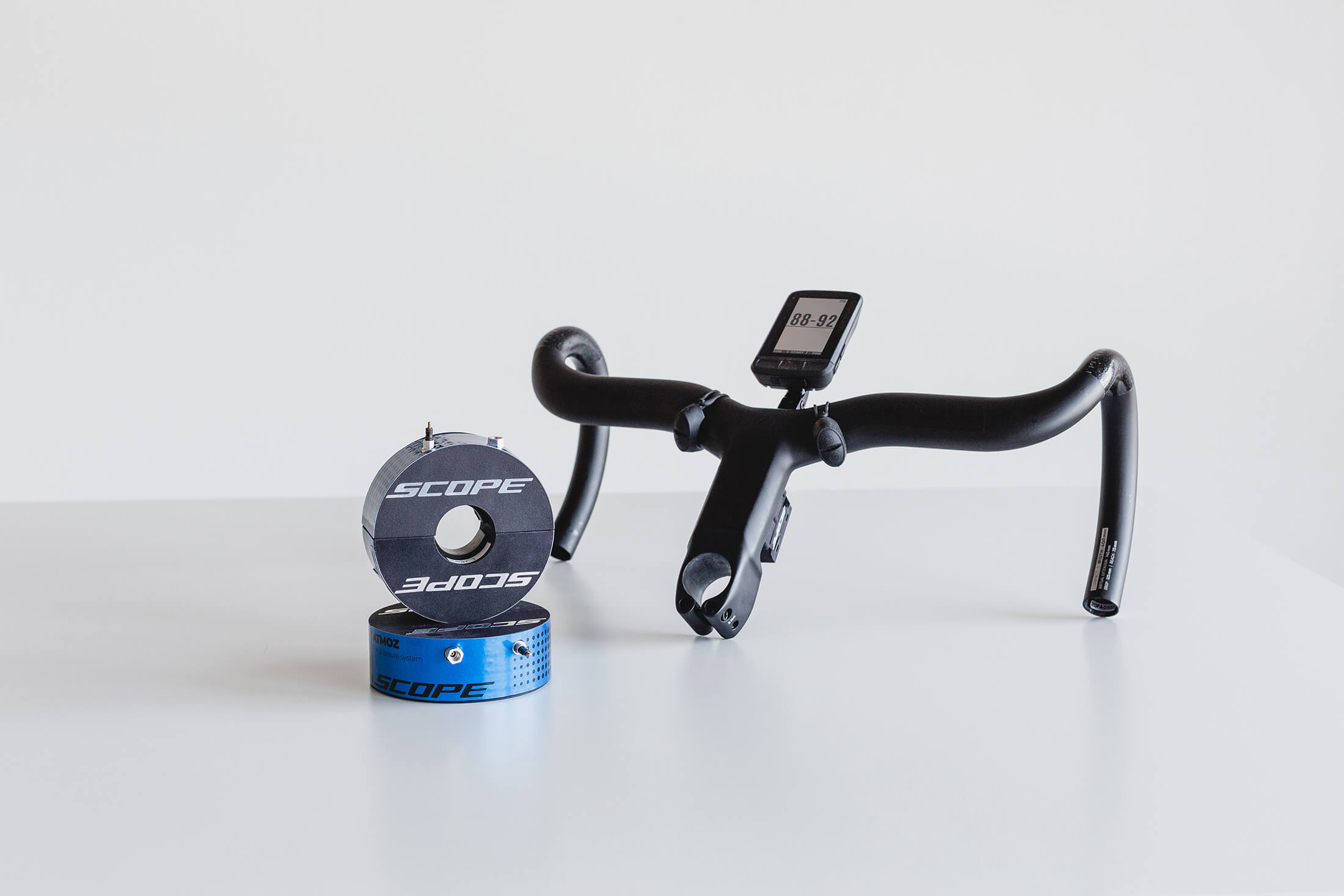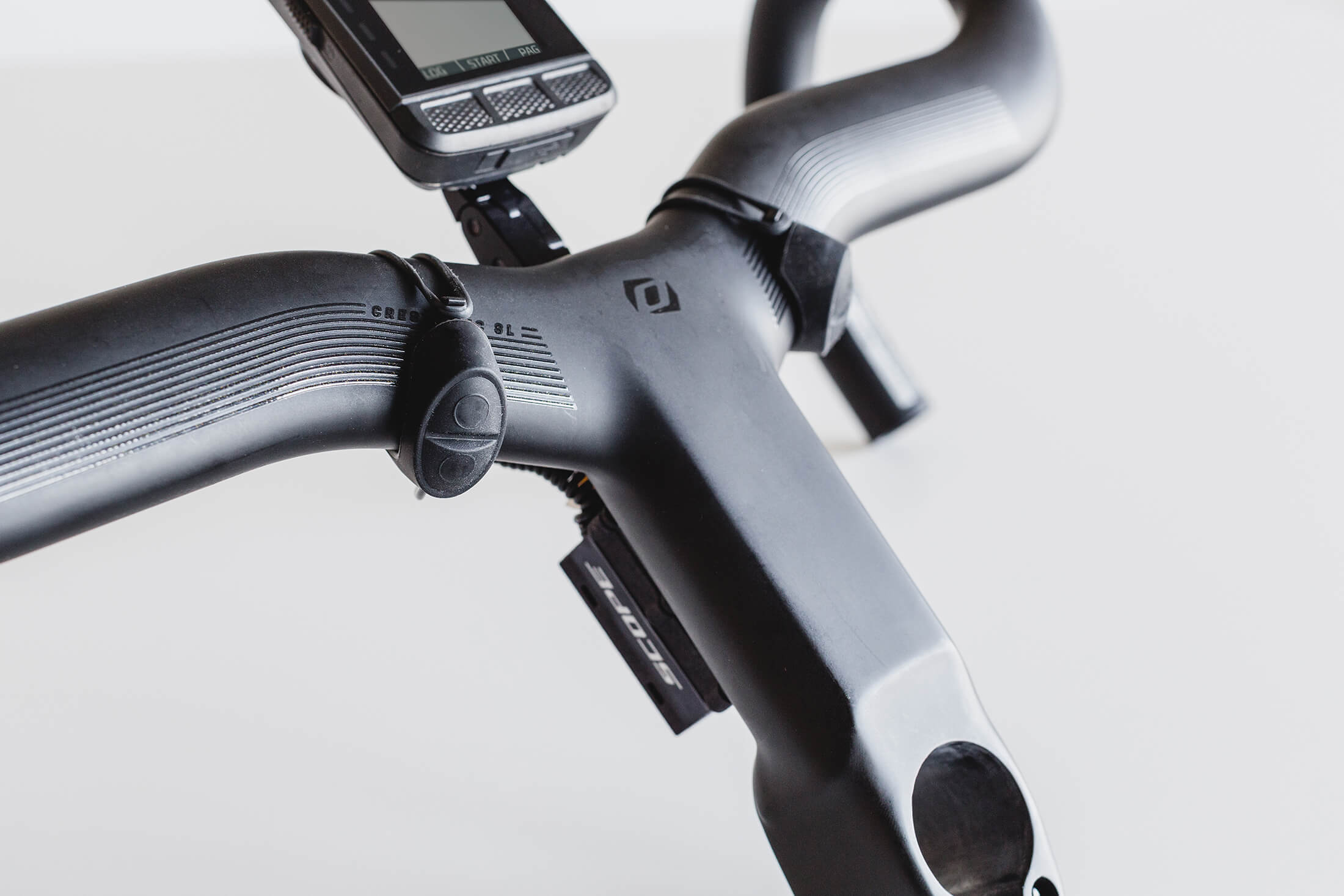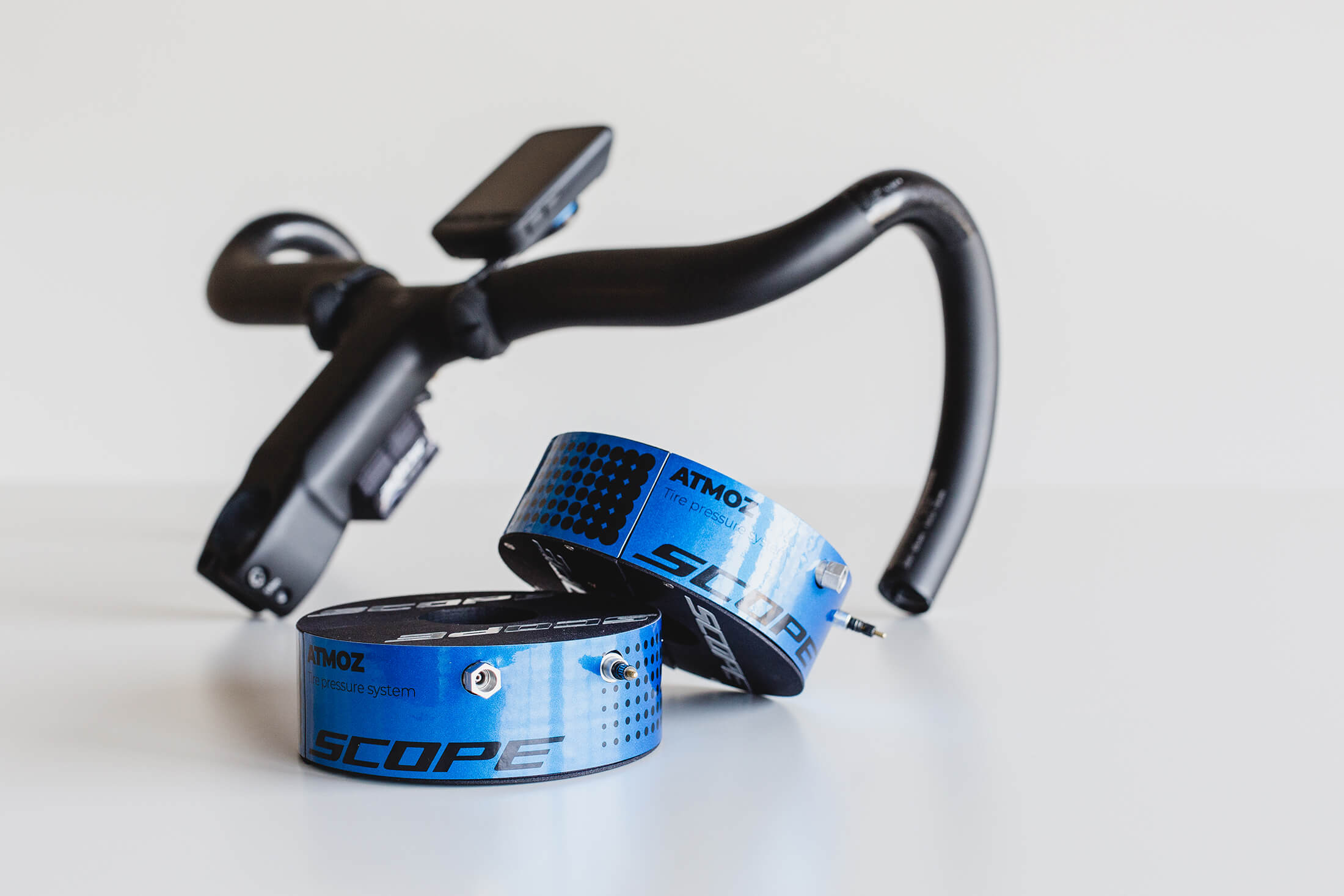 Scope Atmoz – Tire pressure control system
The Scope Atmoz is a Tire Pressure Control system enabling you to adjust your tire-pressures while riding your bike.
Via two remote controller buttons you can manually adjust your tire pressure, while your actual tire pressure is visible on your bike computer. With easily up to 30 wattage of reduced rolling resistance, combined with improved comfort and safety in rough and wet conditions, this product this product is revolutionary for the cycling industry.
The Scope Atmoz is an add-on product and can be installed on any 28"/29er/700c wheelset.
We improve your riding experience
The ongoing search to improve the riding experience is within Scope's DNA. With the ongoing battle for marginal gains, we challenged ourselves to come with a significant gain instead.
From our first generation wheels; tire dimensions, tire pressure, and performance have been an integral part of the development of our high-performance hand-built carbon wheels. As a result, our team has gained significant knowledge in this field and the idea was born to further integrate the tire into our system approach.
After years of in-house research, development, and testing, we succeeded to develop a product which is free of resistance, lightweight, reliable, compatible with all 28" / 29-er / 700C wheelsets and tubeless tires, and most important UCI approved.
We are excited to introduce one of the most significant innovations of modern cycling and disturb the status quo.
Follow us via Instagram or subscribe for your newsletter to stay up to date about everything what's about to happen around the Scope Atmoz.
We are Scope Cycling
We are a Dutch team of engineers and designers, but above all passionate cyclists who develop and sell high performance handbuilt carbon wheels.
It has become our obsession to continuously improve our products based on the user benefits. We believe in strong partnerships to challenge the status quo. We puzzle, we try, we fail, and do it all over again until we succeed to improve our products.
We are reliable, clear, honest, and dedicated. We do what we promise.
We are unlike any other wheel company in the market. We are Scope Cycling!
No Excuse.
UCI World tour team DSM – Scope Cycling partnership
Based on our shared believe to maximize performance and to improve safety, UCI world tour team DSM has been the official partner in the development of the Scope Atmoz. During the development process, Team DSM has brought substantial knowledge and experience into the project when it comes to race application of the system and riders' ergonomics.
The Atmoz project has been started to bring a solution to a very specific situation for the highest level of today's cycling. As such, it was not our objective to develop a product for a wide application. Developing products for the highest level of cycling makes that you have to challenge yourself every day and overcome difficulties during the development process.  The innovations and technologies derived from the development of the Scope Atmoz will be the foundation for our future products and become available for enthusiastic cyclist all over the world.
A new generation carbon wheels
Cycling is evolving and so is Scope. The introduction of gravel and aero bikes opened new roads. With our new generation of wheels, we use these new possibilities to optimize your ride for any road.
In addition to our renewed Road and Off-Road carbon wheels, we have developed a new range of All-Road wheels. With this complete line-up we offer the best option for any ride to take you anywhere. No matter the surface.
No excuse.